Rent A Girlfriend Season 2 Release Date Latest Updates!
Rental Girlfriend, based on the Weekly Shonen Magazine Manga by author Reiji Miyajima, was one of the most unexpected hits of the 2020 summer anime season. Even in China, where "Rent-a-Girlfriend" was the #1 manga of the year, the animation has elevated it to new heights.
In fact, Miyajima himself tweeted that the series had risen to fourth place in Netflix Japan's most popular shows list.
Kazuya Kinoshita, a 20-year-old who was dumped by his fiancée, Mami Nanami, chooses to use a dating app that allows him to rent a partner after being dumped by Mami. However, after pondering on how inauthentic the experience was, he decides to rent the beautiful Chizuru Mizuhara.
When Kazuya takes Chizuru to visit his grandmother in the hospital, the situation changes dramatically. Chizuru and Kazuya also realise that they live next door to one other..
For some time, people questioned if there will be a Season 2 after Season 1. In order to generate interest in a second season, the show's producer, Taiki Kakizaki, even tweeted a plea to fans to pre-purchase the Blu-ray.
Fortunately, the second season of "Rent-a-Girlfriend" has been slated. Here is what we currently know.
Also read: Haikyuu Season 5 Release Date: Details You Need to Know!
Season 2 of Rent-a-girlfriend Will Feature a New Cast Member
The second season of "Rent-a-Girlfriend" cast has yet to be officially announced. However, it's likely that the majority of the actors from Season 1 will be back for the second season. Since the second season of the programme has been officially announced, a special short film featuring many of the prominent anime voice actors has been published.
According to Anime News Network, the cast comprised Sora Amamiya as Chizuru Mizuhara, Aoi Yki as Mami Nanami, Nao Tyama as Ruka Sarashina, Rie Takahashi as Sumi Sakurasawa, Shun Horie as Kazuya Kinoshita, and Yukari Nozawa as Kazuya's grandmother Nagomi Kinoshita..
TMS Entertainment, the studio behind "Rent-a-Girlfriend," and Kazuomi Koga, the anime director, both appear to be returning for Season 2. According to Crunchyroll, the teaser trailer's aesthetics were drawn by character designer Kanna Hirayama.
Also read: Rick and Morty Season 6 Release Date: Details You Need to Know!
Season Two of Rent-a-girlfriend Will Include a Storyline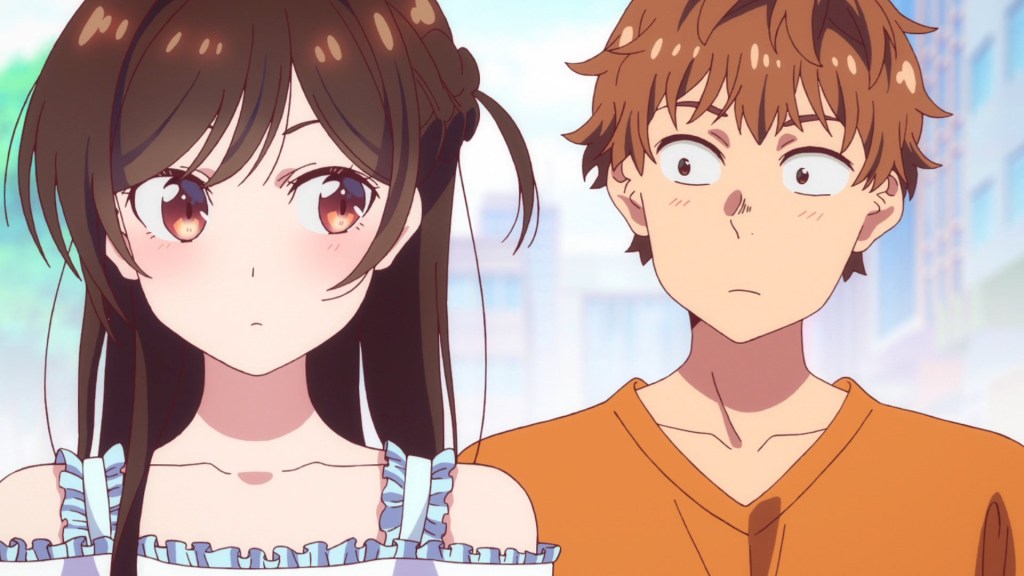 For the second season of "Rent a Girlfriend," no official plot synopsis has been released. The first season, on the other hand, stayed very faithful to the manga's initial six volumes.
There's a lot of material for the upcoming season to draw on, given that the manga has nearly 190 chapters and 19 volumes and no conclusion has been announced.
Season 1 concluded with a bang in the final episode, which featured a number of noteworthy occurrences. After renting Chizuru and confronting her about Kazuya, Mami revealed that she was aware of the true status of her and Kazuya's relationship.
Chizuru, on the other hand, claimed that Kazuya was in fact her boyfriend. Mami didn't respond much when she was questioned if she had ever considered Kazuya to be her genuine love. He later meets with Chizuru and admits to wanting her as a girlfriend but retracts his statement by saying it was only for the sake of renting her out.
Kazuya, Chizuru, and Mami's relationship is expected to be further developed in Season 2. It's likely that the second season will provide additional opportunity for these individuals' genuine romantic impulses to come through, as the first season did.
Also read: My Hero Academia Season 6 Release Date: Things You Need to Know!
Are There Any Plans for Season 2 of Rent a Girlfriend?
"Rent-a-Girlfriend" Season 2 was announced in a matter of days. The streaming service Crunchyroll reported that a second season had been confirmed as the first aired out in 2020. A release date, on the other hand, had not yet been set.
"Rent-a-Girlfriend" Season 2 will premiere in July 2022, according to Crunchyroll, though the exact date has not yet been announced.
It's possible that the COVID-19 pandemic has delayed the release of Season 2 by a year, which disappointed several fans who had hoped for a 2021 release date.
Because of the pandemic's impact on Japanese animation companies, which Nikkei Asia reported, a 2022 release date seems sense.
To avoid a repeat of Season 1's staggered release dates dependent on nation, Season 2 of "Rent-a-Girlfriend" might release in 2022 in Japan in July and the United States in late August, or it might debut concurrently.